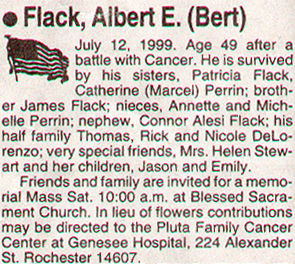 How could I share my life with the world without mentioning one of the most important influences on my life. Albert Flack, even though I only was around him sparaddically through out my life, has been , and always will be, an important person to remember. The world, it seems, lost a great human being this summer when he past away.
I have had a hard time trying to come to terms with his passing. I still mainly rememeber his generosity, his humor, his stubbernness, and his zest for life. The man never could sit down for long and always has a open door to anyone who he cared about. Even though he was never a blood relation, his passing felt like I (and my immediate family) lost a member of the family.
Below is a poem I wrote last December to try to come to terms with his death.