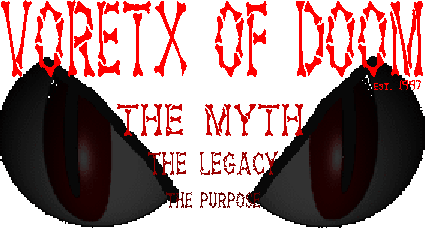 NOTICE
As part of our 5th year Anniversary, we are currently remodeling the whole Vortex of Doom Web Site with a relaunch date being May 28, 2001. During this time, we will be taking an in depth inventory of all the current VOD features and keeping the ones that have been useful and canning the rest. There may be an interruption in services due to this restructuring, thus we are sorry for any inconvenience before hand. Any of the other side projects, such as Skulle Island and the Realm of JWO, will not be effected by this transition.
Welcome Mortal to the Vortex of Doom,
What is the Vortex of Doom? Well, it is the first full web site I have ever laid out, and the longest running site I have ever created. (since April 1, 1997). Having been through a few changes over the years, we have been lucky to of recieved over 25,000 visitors (at the time of this writing) and seem to gain more as time passes. This has also been a testing ground for some of the most exciting web services and gimicks. Since I am a part time web designer, I needed a place to test out cool new web services (from chatrooms to online search engines) as well as new tricks that I have encountered during my trip across this vast web of ours.
Unlike most personal web sites, the Vortex of James "Doom" Bourne is dedicated to offering not only cool things to our viewers, but useful things as well. I haven't been doing much with this site recently, which is my bad and myminions havn't been to happy with me. But now that i have the spare time, I'm doing another redecoration of this realm.
Inside the following pages, exsits a comprehensive Internet Search Engine, Daily Horoscope Service, and even a cool E-Card Post Office!
As you can see, in an attempt to make the Vortex more navigatable, I have added frames to this site. This place has grown so much over the last 3 years, that I was having a hard time keeping everything in order. The links in the left column are general catagories in which stuff is contained in the VOD. If there is something that spacifically interests you, check out our Vortex of Doom Search Engine, or look at the Site Map to go somewhere directly. For the sheer hell of it, I even put together a quick Introduction to the VOD using Real Slideshow.
If you have a Hotmail account, you can now check it via the Vortex! You can even get a FREE E-MAIL ACCOUNT in here! Get all the Sports, World news, and Stock Market information via the Vortex of Doom News Wire! Speaking of services, as of January 25th, we have become associated with the largest on-line bookstore in the universe.
With the help of Amazon.com, the Vortex of Doom has opened up the VOD On-Line Bookstore. Inside these awsome chambers, you can find out all kinds of cool stuff in the form of Books, Movies, and CDs. The best part is that you can buy any or all of these products, via Amazon.com!
Everything that was designed in JavaScript can be found in the JavaScript Stuff Area. The Vortex offers many different VOD Services to our viewers, and these can be found in the VOD Service Area. If You would like to take a look at other web sites that have been designed and maintained by myself, links to these cool places can be found in the VorNet Sites Area. If you have been searching for a cheap laugh or some even cheaper amusement, check out the Hall of Humor.
Since I have been an advid role-player for the last decade, a lot of this site is dedicated to my pals and campign members. You can find more about these cool and strange people in the area dedicated to the mythical realm of Skulle Island. Speaking of KK and Doom, for some reason. their collection of Severed Heads are Dancing!!
To continue our on going battle vs. the first cyber-tyrant of the universe, I have out lined the many reasons Why Bill Gates Must Die. I would like to remind those of you reading that no members of the MS family, including DOS and Windows 95( unfortunately), have been killed in the process of creating this list. If you are impressed by what I have done, feel free to check out the awards we have gained over the years. There are also a few groups we are proud to be apart of as well.
Finally, if you have any questions or comments about this site, please contact me.
Thank you for your time and for stopping by.